Because everyone needs a reason to hide secret notes...
I made a mail kit.
It's our Narnian Lamppost.
Our Portal.
Our place where the real world transforms into the magical one.
See, Pip and Winnie haven't exactly been excited
about writing time.
They moan and whinge when it's time
to pull out notebook and pen.
But now they have a reason to write.
All manner of small letters, notices and lists
have been appearing in the mailbox, begging for a reader.
Secret message makers, word lovers in the making, I hope.
And if we're not so concerned with punctuation just yet,
still Something is being kindled,
and that Something is what we're going for -
getting so lost in play so that the unseen world
shines brighter within us,
and the ordinary world shines brighter on our return...
This is what I want for myself, too.
To take more time to play
with my words, with art, with the kids
without focusing on how much I get done.
I have a choice every day -
wear myself out trying to blast through my goals,
or find the sweet spots and savor.
Relish the revision.
(thank you
Gail Carson Levine
and
Molly Blaisell
for your great advice.)
and
if you need a reason to play with your words,
or an incentive for young heel-dragging-writers,
may I suggest a mail box?
Our kit is compiled of:
A domed box (thrift store find)
Denim.
Felt.
Mod podge.
Ribbon.
A cardboard swing arm fastened with a nut and bolt.
I added a mail sack, felt envelopes and flannel stamps
plus a thick stack of paper
for good measure.
My dad's old mail carrier hat tops the cake.
Any mail today?
Books of Note:
The Dove's Letter by Keith Baker
The Jolly Postman, by Janet and Allan Ahlberg
The Jolly Christmas Postman by Janet and Allan Ahlberg
The Gardener by Sarah Stewart, illustrated by David Small
Toot and Puddle by Holly Hobbie
Letters from Father Christmas - J.R.R. Tolkien
Love, Mouserella by David Ezra Stein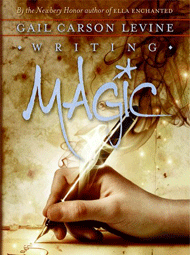 Writing Magic: Creating Stories That Fly - Gail Carson Levine
The Guernsey Literary and Potato Peel Pie Society - Mary Ann Shaffer, Annie Barrows
The Enchanted Chocolate Pot - Patricia C. Wrede, Caroline Stevermer
And an experiment.
I've been trying to set up some freebies for my small writer friends, so here is my first attempt. Drag the image below to your desktop, and it should be ready to print.
You are welcome to use this art as long as you credit the artist (Hey, that's me - Faith Pray!) and as long as you don't try to pass it off as your own work, or sell it (That would be illegal). If you are going to pin or webshare this, please credit me as the artist, and link back to this original post.
Thank you for the respect.